The Best Christmas Gifts for Parents This Year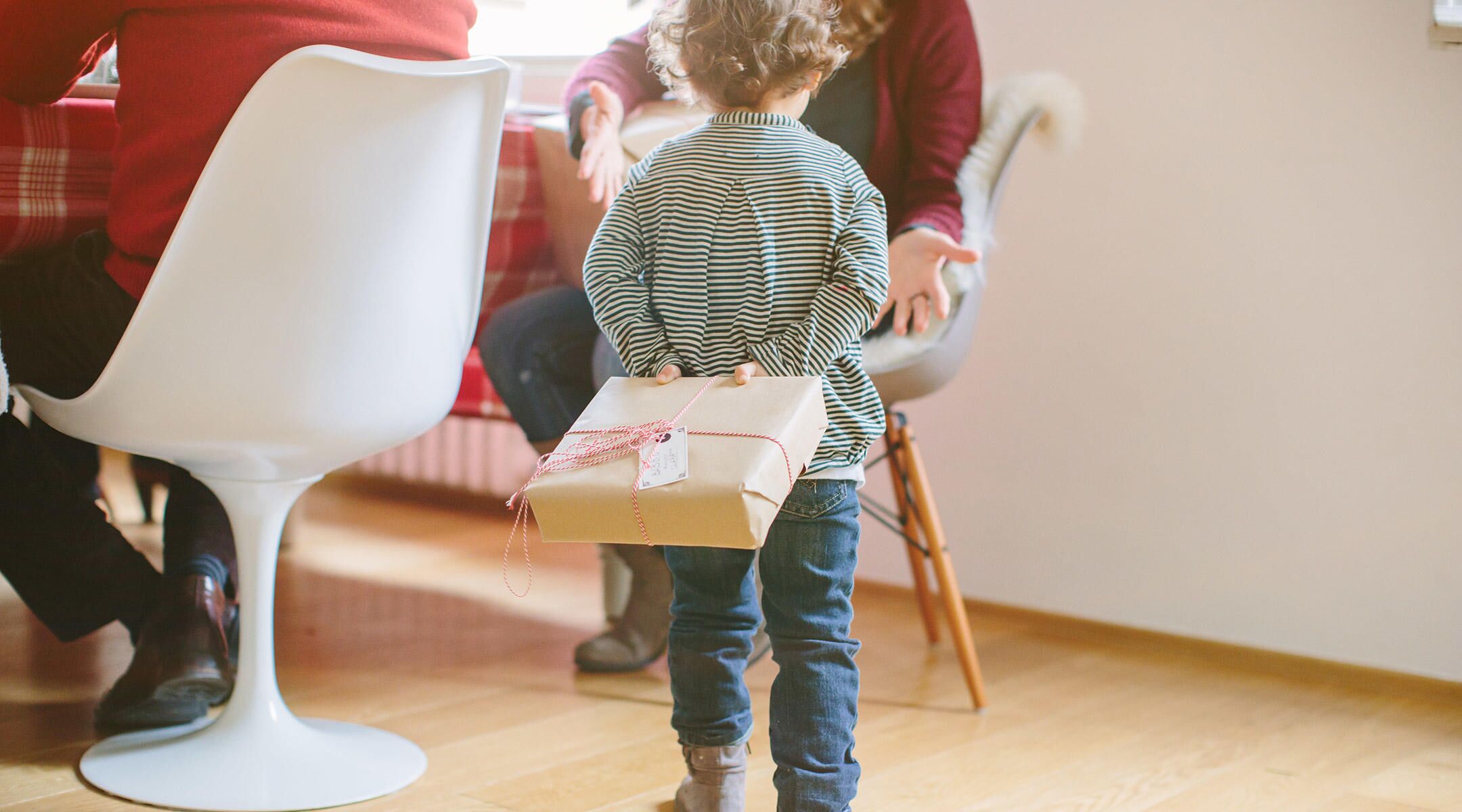 Nobody is more deserving of a token of appreciation at Christmas than a parent. For 364 days out of the year, moms and dads put their children first. Then, in December, on top of the usual pooper scooper duties, feeding, burping, bathing and cleaning, we become chief cookie baker, stocking stuffer, gift wrapper, decorating elf and general magic maker. Whew!

So when it comes time (say, now) to help your little one choose perfect Christmas gifts for mom, or just-right Christmas gifts for dad, you could probably use a little help. That's where our guide comes in. It's stuffed with the cool, the new, the crafty, the pretty, the yummy and the sweet-and-sappy goodies that are all winning Christmas gifts for parents. So, yes, this one day out of the year is a celebration for all you do - you just have to top it off with a bow.


Christmas gift ideas in this article:
Christmas Gifts for Mom, Christmas Gifts for Dad.


Christmas Gifts for Mom
Maybe you've teamed up with your kiddo to plot the Best. Present. Ever. for your significant other. Or do you still need inspiration for the other moms in your life? Or both? You've come to the right place. Here, we've curated delightful DIY (and click-to-buy. Your call.) Christmas gifts for mom. (Psst…they'll make grandmas, aunts and your best mom friends smile too.)
Boss Lady Pillow. May as well finally state the obvious, right? This isn't your grandma's needlepoint and as far as cheeky pillow talk goes, this one speaks the truth - no wonder it's among our favorite Christmas gifts for mom.
Buy it: $98, Jonathan Adler


Keepsake Ornament. Let mom relive a special family moment with a shabby-chic wooden ornament that's easy-peasy to assemble and can be hung on the tree year after year among our Christmas gifts for parents.
DIY: Simple as That
Roses et Reines Hand & Nail Cream. A mom gives baths, high-fives and hugs. Among our Christmas gifts for mom, this will help those hard-working hands stay as soft and beautiful as her heart.
Buy it: $12, L'Occitane
"You Are A Good Mom" Cup. Add a touch of gold and a bit of wit - and a reminder we can all use now and then - to her morning routine.
Buy it: $28, Kirby and Company


Ring Dish. This tiny treasure takes "handmade" Christmas gifts for parents to a new level of adorable. Aside from jewelry and trinkets, it'll catch her attention - and bring a smile - every day.
DIY: MamaPapaBubba
Sugar Cookie Candle. A little spice and everything nice - that's mom, perfectly captured in this Tahitian vanilla and bourbon-caramel-infused votive.
Buy it: $16, Nest Fragrances
Titi Hood Knitting Kit. Even if she's never held a pair of needles before, the stunning finished project - adorable babyhood - and easy-to-follow instructions will have her knitting and purling in no time.
Buy it: $40, We Are Knitters


Lavender Bath Bombs. Fizzy, frothy bath bombs are just the thing to lure the busiest of mommies into a nice, hot soak. These mini homemade versions don't call for citric acid like most recipes, only kitchen-cupboard ingredients.
DIY: Red Ted Art
Pom Pom Slippers. How cheery are these wool felt slip-ons festooned with tassels? Besides coffee, this is one of the Christmas gifts for mom that will definitely add an extra pep in her step even on her most sleep-deprived mornings.
Buy it: $30, Cost Plus World Market
Deco Soap. This 130-year-old Portuguese company gets its luxurious lather courtesy of 100 percent vegetable oils and shea butter. Can't decide which of these splashy soaps makes the best Christmas gifts for mom? Choose three or five to make a festive set.
Buy it: Mini, $7; Medium $18; Large $23, Claus Porto


Printed Napkins. A set of fresh and fun napkins is sure to impress the mom who appreciates all things eco-friendly among her selection of Christmas gifts for parents. They can be machine-washed and reused again and again.
DIY: Brashear Kids


Coloring-Page Bangle. Now this is a rarity: a homemade gift that doesn't look homemade. Turn a child's artwork into a permanent - fabulous! - keepsake mom will catch compliments on.
DIY: Persia Lou
Chopping Board. Who knew cutting boards could be stylish? Among our list of Christmas gifts for parents, this maple wood one can be engraved free with a short phrase, like "Let's cook up fun!" assuring mom (and her little sous chef) reach for it often.
Buy it: $38, American Heirloom
Frameable Art Print. The old saying about a mom having her child's adoration for a lifetime gets a modern design. (The print itself may well last a lifetime too, as it's made to resist moisture and UV damage.)
Buy it: $24, Mixt Studio


Polaroid Coasters. These are about the most memorable coasters we've seen, so much so that you'll be hard-pressed to set a drink on top. And your little one will love helping choose the best family snaps to create a set that'll be a beloved keepsake long after the less-enduring Christmas gifts for parents go by the wayside.
DIY: Darkroom & Dearly


Personalized Bracelet. She'll swoon for a stretchy beaded bracelet designed just for her. Pick her favorite color, and any six letters, numbers, or symbols to create a message she'll always have on hand among her haul of Christmas gifts for mom.
Buy it: $39, Experimental Jewellery Club
Luxury Chocolates. PB&J Bon Bon or Coconut truffle? A mom like her shouldn't have to choose. And she won't with this curated collection of uber indulgent treats. When in doubt, do chocolate.
Buy it: $24 for a box of six, Cocoa V


Felt Letter Board. A mom who likes retro design will fall hard for this old-school kitchen accessory. She can change messages with seasons and holidays, or just post words of love to her kiddo. Plastic letters are included.
Buy it: $55, Etsy
Tassel Keychain. It comes in an array of colors, but we like the winter white as a holiday gift, especially paired with the engravable disc (on which you can imprint her child's initials) as small token Christmas gifts for parents.
Buy it: $15.50, Beaucoup Designs
Tea Chest. The tea drinkers in the ranks of motherhood deserve the best. And this organic tea purveyor is the exclusive supplier to the James Beard Foundation, no less. The Warming Joy set includes Ginger Snap, Raspberry Ganache, Rum Raisin Biscotti, Spiced Ginger Plum, and Winter Chai.
Buy it: $60 for 40 infusers, Tea Forté


Brass Easel Calendar. Fill this sleek desk calendar with 12 photos of her little one's milestones throughout the past year, a beautiful reminder that the days are long but the years are short.
Buy it: $55, Artifact Uprising
Grow Greenhouse. Looking for Christmas gifts for parents with a green thumb? This wee greenhouse is made of two hand-blown glass parts, with a cleverly designed top that's equipped with a spout, so it both lets in air and doubles as a watering can.
Buy it: $35 for 3-inch diameter x 5.5-inch height, Design House Stockholm, HORNE


Christmas Gifts for Dad
Your family holiday just wouldn't happen without the big guy. No, not Santa…Your own personal Father Christmas. Whether the man of your house has a sweet tooth, is at home in front of the grill, or could just use a new pair of dress socks, we've got a Christmas gift for that (and lots of other special occasions too). Does your kid want to make daddy something unique? There are plenty of creative suggestions for DIY projects as well. With your help, these Christmas gifts for dad are as doable as they are special.
Make Your Own Snow Globe. We don't know a dad who wouldn't like a holiday snow globe made by his little angel. This kit makes the project short on a mess, but long on magic, a big plus among our picks for top handmade Christmas gifts for parents.
Buy it: $25, Land of Nod
Kevin Forever Blanket. When it comes to personalized Christmas gifts for parents, we love this hybrid blanket-throw, and we're betting dad will too. Not only is it soft, but the topper is the sewn-in fabric tag that's printed with a custom message in his child's handwriting.
Buy it: $115, Swell Forever
Jiffi J-40 Scooter. Calling all the cool urban dads - or dads who are just big kids themselves. This set of wheels sits extra low, so it's easy for guys who've haven't scooted since middle school to keep their balance. Rear-fender braking and an included carry strap make this more than just your basic ride that'll surely be a hit among the Christmas gifts for parents nested under the tree.
Buy it: $120, ScooRide, Amazon.com


Popsicle Stick Frame. With little more than Washi tape and glue, you and your little one can make a fast last-minute photo frame to adorn his man cave. And while it's among our more humble Christmas gifts for parents, we guarantee it'll be one of the most cherished.
DIY: Eighteen25
Daydream View. This aptly-named VR headset teleports that deserving dad anywhere he wants to be…from the Louvre to the Taj Majal to the midst of a school of dolphins. Which is good, since an exotic adventure vacation is probably not happening anytime soon.
Buy it: $79, Google


Watercolor Mug. There are homemade mugs and then there's this one that looks like something you might have picked up at a museum gift shop for three times the cost. And making it is easy as pour, dip, dry. It's so beautiful, why not add this to your Christmas gifts for mom too.
DIY: Poppytalk


Hot Chocolate in a Jar. Layer ingredients in a mason jar, add a personalized tag (templates provided) and voilà! A sweet, seasonal treat any kid can make and any dad will enjoy.
DIY: LoveGrowsWild.com
Theo French Press Coffee Maker. It turns out robust coffee with rustic Scandinavian minimalism - and with minimal effort. It's perfect for the java aficionado who's grown weary of the same old plop-pull morning brew.

Photo: Courtesy of BakerStone Basics
Pizza Oven Box. The one meal that needs no kid cajoling to eat: pizza! Now dad can be king pizza maker and turn out crispy, authentic pies right in your own backyard with this portable oven box that also roasts meat, cooks fish and bakes cookies.
Buy it: $110, BakerStone, CampingWorld.com


Whipped Eucalyptus Shaving Cream. A dollop of this marshmallow-y concoction turns scratchy-kisses daddy into soft-n-smooth daddy. It looks store-bought in an air-tight, hinged jar tied with a ribbon.
DIY: The Garlic Diaries
Hey, Baby! Survival Tote. The newborn period or even midnight feedings will feel a lot less like boot camp and a lot more manageable with this sweet, salty and savory snacking sack.
Buy it: $94.50, Mouth
Modern Day Briefcase. It's high time a dad as great as he is got an upgrade on his futsy briefcase, don't you think? This fine specimen is crafted of water-resistant waxed cotton and Italian leather, destined to look better and better with age (kind of like him).
Buy it: $199, The Breton Company


Kubelets. Christmas gifts for parents that do good for the planet - these unique photo blocks made of sustainable bamboo are a beautiful family memento and for each order, a tree is planted.
Buy it: $25 for three, Paper Culture
Personalized Water Bottle. Equipped with this large, stainless steel water bottle, he'll be reminded of his boo even he's working out.
Buy it: $25, Etsy


Art T-Shirt. Let your little one try his hand at fashion design by guiding him through this easier-than-you-think process. We think it's earned a spot among the best Christmas gifts for dad (read: he'll wear it outside of the house).
DIY: SmallFriendly
Puzzle Portrait. You either love to work puzzles, or you don't. So if you're looking for Christmas gifts for a dad who is on Team Jigsaw, look no further! He'll be extra motivated to leverage his corners-first strategy, because it'll mean revealing a precious picture that comes together with effort and care.
Buy it: $25, Pinhole Press


Phone Cradle. Even the youngest tots can take over the clay smooshing and rolling part of this Christmas gifts for dad project, the end result of which is a classy phone rest that's sure to be used, even if only to watch YouTube videos. Hey, there's no shame in that game.
DIY: TheDIYDiary
"You Make Me Melt" Ice Cream Cones. There, she said it - with raspberry, strawberry and vanilla gummies (Daddy's little girl, that is) - a sweet little stocking stuff he'll enjoy long after unwrapping his Christmas gifts for dad.
Buy it: $7.50, Sugarfina


Photo Pillow. Turn a picture of him and his baby he didn't know you took into a plush 18 x 18-inch cushion, perfect for his weekend couch naps. Christmas gifts for parents that guarantee sweet dreams - yes, please!
Buy it: $39, CanvasPop
Maple iPhone Case. Thin but strong, this all-hardwood case protects his smartphone without bulking it up. Handcrafted in Oregon, the Maple case has a solid, down-to-earth look and feel that's a nice juxtaposition to his high-tech device.
Buy it: $99, Grovemade
Digital Frame. A new breed of digi photo frame that lets far-flung family add photos to it, and that advances through its gallery with the wave of his hand? If you're going for high-tech Christmas gifts for parents, this one has a lot of heart.
Buy it: $399, Aura Frames
Socks. From lobsters and Doxies to a Hawaiian print and pineapples, these men's combed cotton socks can be matched to a child-sized pair so your two favorites can #twinforthewin.
Buy it: $12 each pair, Jimmy Lion
[post_ad]
The Best Christmas Gifts for Parents This Year
Reviewed by
Honest Maternity Blog
on
21:07
Rating: